LGBT Caucus – Honolulu Pride Info
LGBT Caucus & Honolulu Pride Parade & Festival
Saturday, Oct 19th
LGBT Caucus' contingent info:
9:00 AM meet at Magic Island parking lot
10:30 AM everyone be in place
11:00 AM the 2019 Honolulu Pride Parade begins
Facebook event for more information

LGBT Caucus' booth info:
8:00 AM set-up at Waikiki Shell back area
11:30 AM Honolulu Pride Festival begins
6:00 PM Honolulu Pride Festival ends

Soul Dancer has agreed to lead for the LGBT Caucus' booth at the Honolulu Pride Festival so please email him to volunteer to staff our booth.
LGBT Caucus 2020 Legislative Priorities
Getting the State to fund/secure Homeless Youth Shelters across the State (homeless unaccompanied minors)
Expanding gender markers on birth certificates
Health centers for the neighbor islands that include mental health services with access for LGBTQIA+ (youth & adult)
Removal of statuette of limitations for survivors of sexual abuse as children
Allowing minors to access health care for HIV & PrEP as well as mental health care without parental consent
The 2020 Democratic Party of Hawaii's T-shirt Art Contest to help engage everyone in the 2020 election and get them to register to vote and vote blue!!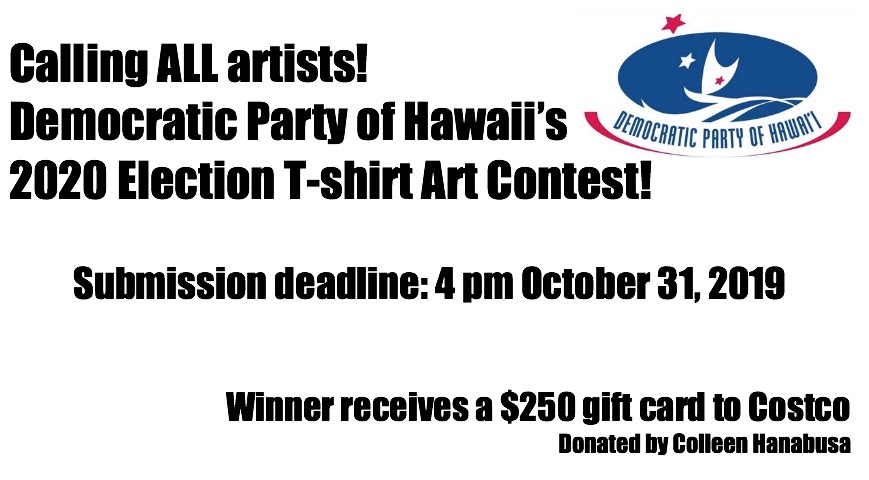 The winning designer will receive a $250 Costco gift card (donated by Colleen Hanabusa) and their design will be available on t-shirts on the DPH Store.

The contest is open to all members (active & associate) of the Democratic Party of Hawai'i. Click here to become a member: http://bit.ly/DPHMember

Deadline to submit entries is 4:00 p.m. on Thursday, October 31, 2019
The entry should be accompanied with your name & contact information;
The entry may be drawn or printed on 8-1/2" x 11" paper or the entry may be any of the following art file formats if submitted electronically: .JPG, .PDF, .PNG or .PSD (Dimensions: 12″ x 12″);
The Democratic Party of Hawaii's colors should be incorporated in the design;
The design should encourage everyone to get involved in the 2020 election process and vote; and
Use of the Democratic Party of Hawaii's logo is permitted.
For complete rules click here: http://bit.ly/DPHtshirtRules

Entries must be received via email to michael@hawaiidemocrats.org with the subject line "DPH T-Shirt Design Contest" or mailed or dropped off to the Democratic Party of Hawaii's Head Quarters located at 627 South Street, Suite 105, Honolulu, HI 96813 .
2020 Party-run Presidential Primary
Party-run Presidential Primary (PPP); the PPP is where members of the Democratic Party of Hawaii get to vote on who they support for the Democratic Nominee for President and the Party has made some major changes for the 2020 election and here they are:
District & Precinct Meetings to be held on Wednesday, March 4 at 7:00 pm (day after Super Tuesday)
2020 PPP to be held on Saturday, April 4, 2020 from 7:00 am – 3:00 pm
Around 20 voting locations across the state for the PPP
Absentee voting for those that are an active member of the DPH by Monday, Feb 18, 2020
Rank choice voting (you can vote for up to 3 candidates)
Cost is @ $250,000
We will still have same day party & voter registration on Saturday, April 4, 2020 at the voting locations across the state. If you have any questions about the 2020 PPP please let us know and we will get you the answers. To pay for this the 2020 PPP Committee has is asking for donations so if you can donate click here to make your donation or you can mail a check made out to the 'Democratic Party of Hawaii' with 'LGBT Caucus/PPP' in the memo section to DPH 627 South St. #105, Honolulu, HI 96813.
Be The Change
If you missed Be The Change: Becoming a Foster Parent you can watch thevideo by clicking here.